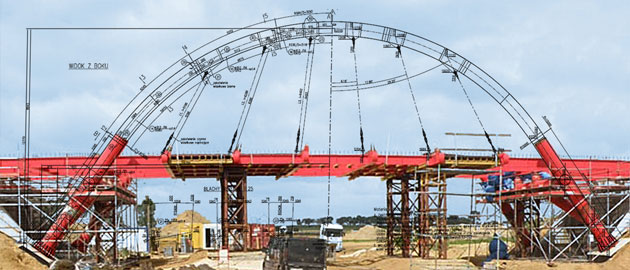 February 8th, 2017
Barnshaws Polska is supplying seven precision curved 813x16 tubes to support the construction of a dual carriageway ring road around the historic city of Wielun. The metal fabrication experts were contacted to lend their unique expertise to the project, which aims to modernise the local area and increase access to one of Poland's oldest cities.
The tubes were specified to help support a bridge along a section of the ring road, with the contractors requiring the tubes to be fabricated to appropriate CE standards. The new carriageway will integrate with the National Road No.8, a road which boasts great connection to industrial and tourist destinations near Warsaw, with the project mostly funded by the EU European Regional Development Fund.
Bridges are notoriously challenging applications for steel products due to constant fatigue caused by vibrations, so Barnshaws Polska were selected due to their great experience in similar projects. The new tubes will form a crucial part of the infrastructure supporting the 13.24km highway.
Maciej Walkowicz, Director of Barnshaws Polska commented on the project, 'we can service large projects such as this easily. As a business, to be involved in a project that is building infrastructure for local people is very rewarding. Barnshaws is absolutely dedicated to providing our unrivalled metal bending services to all of Europe, with our dedicated facility minimizing lead times. We can also work in close conjunction with our colleagues at Barnshaws UK – which means we have the versatility to support any project scope.'
The Barnshaws Polish branch offers the full range of Barnshaws services, including bending services for IPE European section beams and profiles section sizes up to 533mm, plate rolling up to 3m wide at 20mm thick and 1.5m wide at 40mm thick. A dedicated specialist aluminium bending centre is also included in- house. All services can be supplemented by support from Barnshaws UK.
To view the Barnshaws Polska website, please visit www.barnshaws.pl