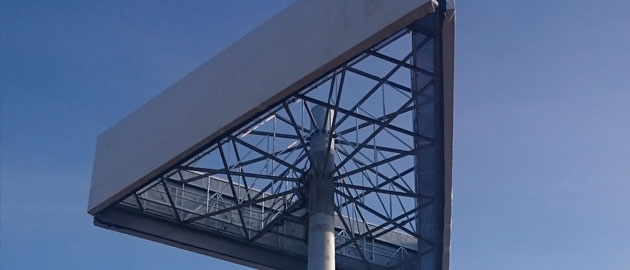 June 1st, 2017
A new giant retail sign in Hungary has been erected using steel fabrication expertise from Barnshaws Polska. The expert metal bending and fabrication company used 40 tons of precision rolled steel cylinders and cones to construct a tapered column to support the huge triangular sign structure. A company from Budapest was the main contractor and chose Barnshaws due to a track record of supplying curved structural steel sections, pipes and tubes to many of Europe's largest construction projects.
Barnshaws Polska first sourced the steel plates in a range of gauges incorporating 12, 14, 16 and 18 thickness. To fabricate these plates into the cylinders and cones required for the tower sign, Barnshaws Polska utilised its in-house rolling capacity to deliver the finished shapes. Diameters of the finished cones and cylinders ranged from 1000 mm to 1500 mm, with the height of each cylinder measuring in at 3000 mm.
The next step of the fabrications process was to bevel the edges of all the cylinders and cones, then weld them together for final delivery to the customer. The bevelling process ensured a strong durable weld, a key aspect for a structure that will spend the entirely of its service life outdoors. All work was carried out in-house by Barnshaws Polska engineers, offering the client a turnkey fabrication solution to fit their application requirements.
Maciej Walkowicz, Director at Barnshaws Polska commented: "The wide range of services we offer means that we can take on all aspects of precision curving and fabricating metal. This turnkey approach, supported by our in-house capability, translates into reduced costs and lead times for our customers. Our breadth of expertise includes projects that vary from bridges, to vehicles and stadia, for example; we have provided structural steel and aluminium for the Sopot Forest Opera venue, a new tram design and bridge structures for the Wielun ring road."
Barnshaws Polska Branch is located in Siemianowice Slaskie, a perfect position from which to service engineering and construction projects across Europe. The facility offers bending services for IPE European section beams and profile section sizes up to 533mm, steel tube bending up to 508mm, plate rolling to 3m wide at 20mm thick and 1.5m wide at 40mm thick. In addition, aluminium bending is available from an exclusively non-ferrous workshop. Capacity from Barnshaws in the UK is also available to help supplement larger diameters.