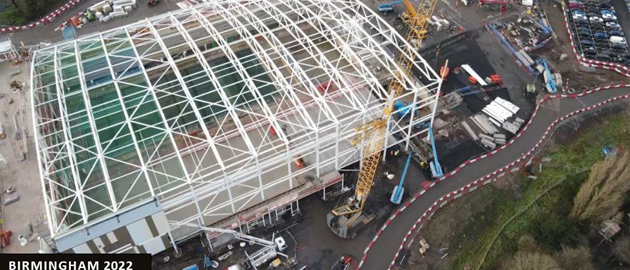 July 28th, 2022
The new Sandwell Aquatics Centre in Smethwick provides first-class swimming facilities, including a 50 m Olympic-sized swimming pool and a 25 m diving pool[1]. The structure roof is made out of nearly 400 tonnes of square hollow section (SHS) precision curved by metal bending experts at Barnshaws Section Benders, which provided its steel bending services to the project on behalf of Billington Structures Ltd.
Sandwell Aquatics Centre has been built to coincide with the 2022 Commonwealth Games, which begin this week in Birmingham. The £73 million project has been funded partly by Sandwell Council and the 2022 games budget[2]. Along with the Olympic-grade swimming facilities, the centre houses a community swimming pool, permanent seating for 1000 people, activity studios, a dry dive area filled with sponges, a sports hall, fitness suite, a football pitch and an urban park[3].
The design of the structure required a large amount of steelwork, including a high quantity of precision curved SHS. To deliver these curved sections, Billington Structures Ltd turned to metal bending expert, Barnshaws Section Benders.
Greg North, Group Commercial Director at Barnshaws, explained: "Barnshaws has a long history of working with Billington Structures Ltd and a proven track record for delivering quality. We also have a strong reputation for being the go-to company for large, complex structural bending."
Barnshaws was required to precision curve 260 tonnes of 400x400x12.5 mm SHS and 132 tonnes of 300x300x12.5 mm SHS. A key concern while bending these sections was to preserve a consistent internal cross-section, which ensures that the sections provide the utmost structural strength. Utilising its extensive selection of specialist bending machines operated by metal bending experts, this was easily achieved.
"What differentiates this project was how we were able to reduce overall wastage so we could offer a highly competitive price," Greg says. "Our internal research and development team was able to originate an innovative design that minimised the additional length across all the SHS. This reduced wastage and providing more value."